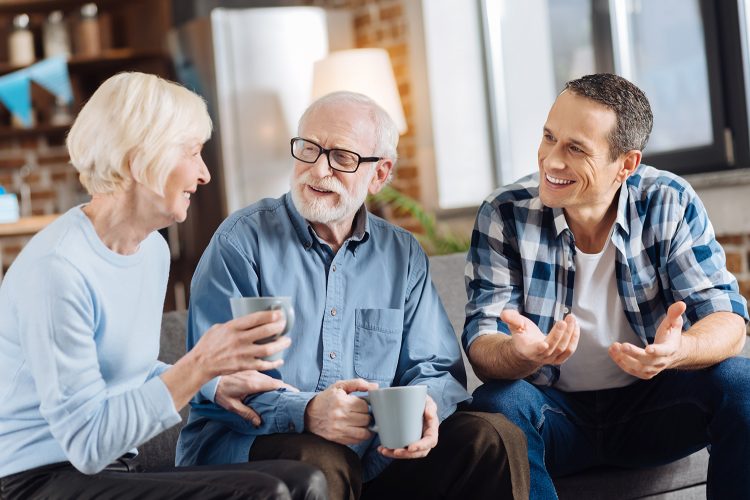 Support from loved ones when getting hearing aids
Loved ones are just as affected by hearing loss as the person who has it. That's why it's important for friends and family to talk with the person showing signs of hearing loss as soon as possible. Addressing the problem will help everyone involved have a better quality of life.
The importance of starting the process quickly
It may take up to seven years for a person experiencing hearing loss to see a hearing health professional. But with support and encouragement from their loved ones, it could go much faster!
Here are a few tips to help start the person on the right path:
Make the simple and easy-to-understand comparison to people who wear eyeglasses: people who have trouble seeing get glasses. It's the same with hearing!
Explain that hearing loss is not reversible. In fact, it gets worse over time.
Together, discuss the consequences of putting off getting help.
Be there to support them: it's essential!
Friends and family are the best people to encourage their loved one to take the first step of getting a hearing test. They can also accompany the person through the process of working with hearing professionals to find solutions.
In supporting the person's acceptance and adaptation, you both should:
Accept the condition and try to adapt to the new situation
Be willing to continue activities without focusing on limitations
Reject the stigma associated with hearing loss
Use effective communication strategies during conversations
And, dear loved ones, you too face repercussions!
Without treatment, hearing loss can affect the person's relationships with family and friends, which will also gradually affect their quality of life.
Do it for love, for their health and for yours too!
Are you feeling frustrated, sick of repeating yourself or acting as the interpreter? Persuading a loved one to see a hearing health professional—to get a hearing test and then take the steps needed—means you're helping them rediscover the pleasure of being surrounded by the people they love.
If you have concerns about your hearing or that of a loved one, our hearing health professionals are here to answer your questions and help you through the next steps towards rediscovering the pleasure of hearing!