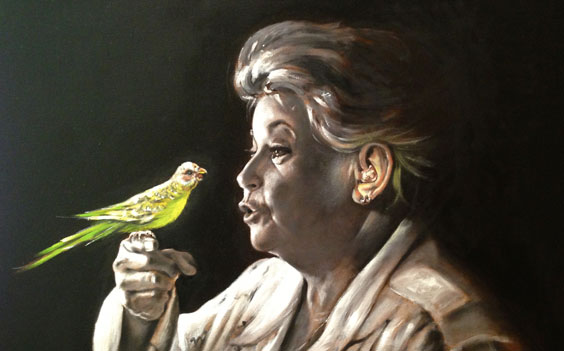 Ginette Reno : The Groupe Forget Foundation Ambassador
In Québec, 1 person out of 10 experiences a hearing loss. One of them is a great Lady of the Quebec music scene, Mrs. Ginette Reno! The artist chose to embrace the Groupe Forget Foundation campaign to bring awareness to the cause!
The Groupe Forget Foundation is a nonprofit organization. Its mission is to improve the quality of life of people in need who have hearing problems as well as increase the public's awareness on the daily challenges brought about by a hearing loss. More than 800 000 Quebecers live with a hearing loss. Even so, only 20 % seek help to find a solution to this problem…
A painting by a friend and dentist of Ginette Reno, Danny Peters, will serve as the official portrait for this new campaign. The poster will be distributed in audiology, E.N.T. and audioprosthetist centers across Québec! The painting and campaign will be entitled: « Le plaisir d'entendre » (The pleasure of hearing).
« Danny is my dentist and above all, my friend! He is passionate for the arts, more specifically for painting. His talent event influences his profession! He has indeed been recognized for his aesthetic dentistry work since his early career » – Ginette Reno
It is during a press conference at the Boucherville City Hall, town where she has been residing for 37 years, that Ginette Reno and members of the Groupe Forget Foundation have announced the campaign!
Before media, friends and collaborators, Ginette Reno was also rewarded with the triple platinum certification for her album « Fais moi la tendresse » sold in excess of 240 000 copies as well as the platinum mention for her latest opus « La Musique en moi » which reached over 100 000 albums in sales! A beautiful honor for this great Lady of the Quebec music scene who is on the brink of beginning her new tour of more than sixty performances rightly entitled «GINETTE – CHANTER POUR TOI CE SOIR», that will begin on February 22 in Brossard and continue right through December of 2013.
With this tour «GINETTE – CHANTER POUR TOI CE SOIR», the golden voice artist will meet her faithful followers who have longed to hear her for some time. A unique, even precious encounter, to share an unforgettable moment with 11 musicians on stage and the one they simply and affectionately call GINETTE…